Dastio
E-commerce, Web & Tech
Service
IT services
Sviluppo e-commerce
Deriverables
New SEO optimized e-commerce site
E-commerce Integration and Alignment - Logistics
Hosting & Disaster Recovery
Goal
Development of a new E-commerce platform in English, integrated with logistics systems for international product delivery
E-commerce
E-commerce development
Dastio is a new reality dedicated to the online resale of high-level furniture products. It has a mainly international audience, with a main focus on the US, UK and Arab markets.
Being a new company, Key-One took care of the ex novo creation of the e-commerce platform, with an awaiting study of the design that would make the products displayed and sold online stand out.
The new site is fully integrated with a warehouse and logistics partner, able to automate the sales process, order creation and delivery management in Italy, Europe and non-EU countries with a flexible pricing system based on the country for i which you place the order.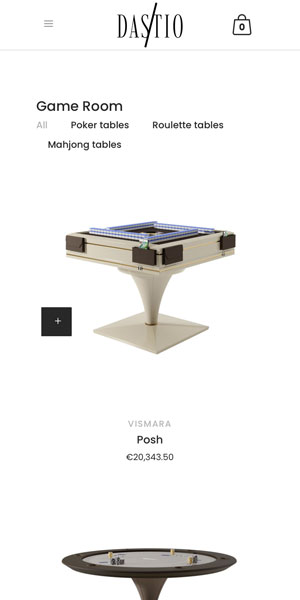 Web & Tech
IT Services
Key-One has developed an API system capable of connecting in real-time with external warehouse and logistics systems, ensuring constant alignment between the e-commerce platform and the warehouse.
In this way, the customer is able to manage all incoming and outgoing flows directly from the e-commerce platform, with a considerable saving of time and resources. In particular:
Real-time updating of stocks in the warehouse, both inbound and outbound

Automated order creation and delivery services start-up

Automated creation of order tracking services and notifications "