Contents
Consulenza e strategia, Digital Marketing, Web & Tech
Service
Funnel design
Google Advertising
Social ADS
Social media Management
UX/UI
Deriverables
Analysis of brand positioning in the market
Website design and development
Social media advertising
Brand campaigns and lead generation
Multi-channel organic posts
Design
Web & Tech
Website and mobile development
The customer already had a website that was now outdated and not performing in terms of User Experience.
The platform also did not allow the functional flexibility now required by the customer's business volumes.
Key one proceeded with an initial audit of the company's flows and subsequently produced a functional specifications document that, after being shared with the customer, led to the design and development of a new site connected to the customer's Saas application.
The new site was designed to ensure:
to the Customer a site with renewed graphics and tree structure to ensure maximum scalability both in terms of functions and performance;
to the Users a satisfying User Experience both from mobile devices and from desktop, a greater completeness of information and a simplified Journey.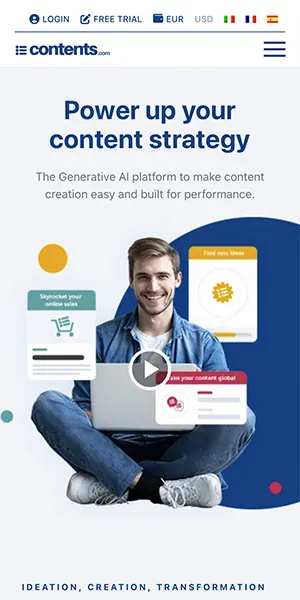 Consulenza e strategia
Digital Strategy
Contents is the multilingual platform for creating web content that combines human creativity with artificial intelligence. Contents covers a huge number of countries from Europe to Latin America and is constantly expanding its reach.
After a thorough pre-analysis of the brand's positioning in the market, Key-One has developed a communication strategy that has involved several channels:
– Google
– Facebook
– Linkedin
– Intagram
Google

Facebook

Linkedin

Intagram
Digital Marketing
Google Advertising
Google ADV's activity focused, in the first four months of activity, on campaigns mainly for Branding and converting users to the Free Trial version of the Saas platform.
Search, Display and Discovery campaigns were activated, creating different versions of graphic banners and ads in line with the new look & feel defined during the analysis and strategy definition phase.
From the very beginning, the campaigns contributed to a constant and rapid growth in conversions.