Consulenza e strategia, Digital Marketing, Lead Generation, SEO e Content, Social Media Marketing
Service
Article Marketing
Google Advertising
Marketing Automation
Deriverables
Offer analysis towards SMEs
Brand campaigns and B2B lead generation
Multi-channel organic posts and B2B ADS campaigns
Integration with Automation Salesforce marketing system
SEO optimized blog posts
Consulenza e strategia
Digital Strategy
Ayming is a multinational company specializing in Business Performance Consulting, with a particular focus on facilitated finance, international taxation, and facilitating access to Italian and European grants and tenders.
The Italian branch office, Ayming Italia, was looking for new lead acquisition methodologies to support the sales network present in the territory, with particular attention towards SMEs and StartUps.
Here's the translation: "Following an analysis of the brand's positioning in the Italian market and a thorough evaluation of the numerous competitors,
Key-One developed a communication strategy that involved various digital channels, with a particular focus on Google ADS, LinkedIn, Facebook, Spotify, and direct marketing activities.
Key-One, in coordination with Ayming Italia's internal marketing team and the international corporate team, contributed to a revision and simplification of the tone of voice, with great attention paid to finance 4.0 and issues related to the PNRR and facilitative funds.
Google

Linkedin, Facebook, Spotify

Website

Newsletter
Digital Marketing
The advertising activity on Google focused mainly on services related to Facilitated Finance, with particular attention to the new developments arising from the PNRR and other financing formulas for companies.
The strategy was divided into three phases of work, in synergy with social media activities: after an initial step of strong push on brand awareness,
Key-One and Ayming focused on conversion, generating a high number of qualified leads that were then converted into collaboration contracts.
Search and Discovery campaigns were activated, creating graphic banners and ads in line with the new look & feel defined during the analysis and strategy definition phase, as well as remarketing campaigns.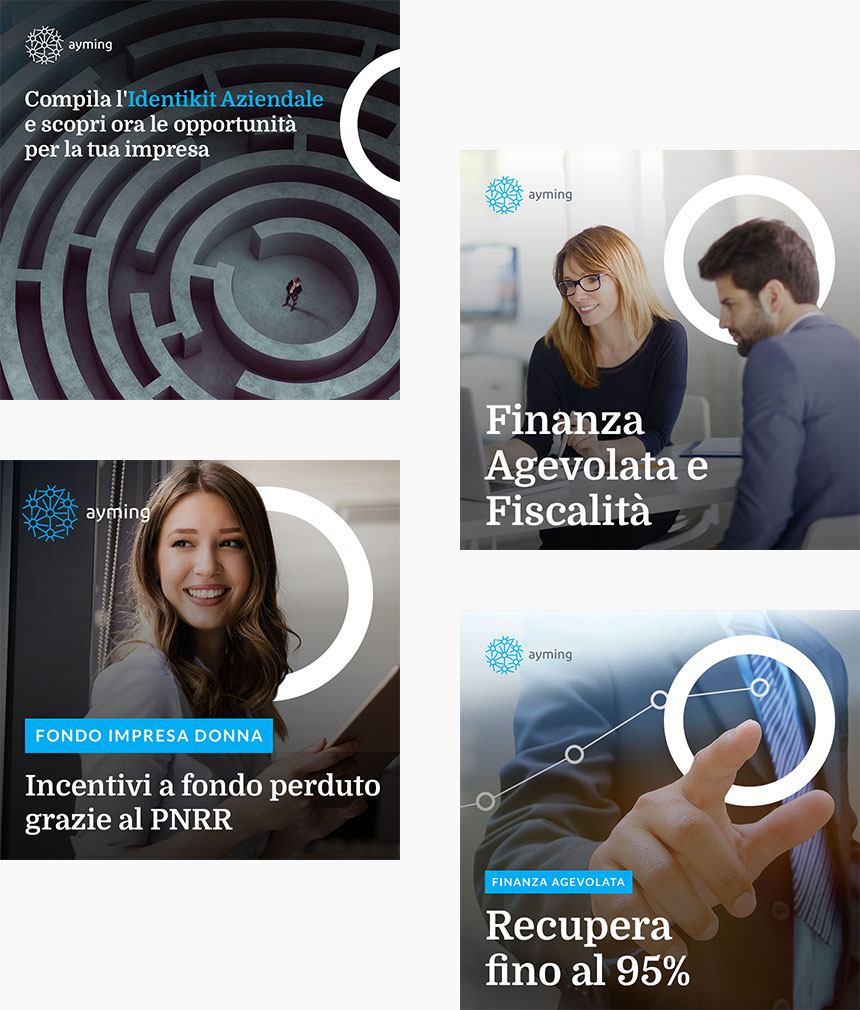 Marketing Automation
Following the integration between the website and Pardot – Salesforce, membership lists were defined and parameterized based on the interest shown during the form completion phase.
Within the Pardot – Salesforce tool, parameters were set for the automation of newsletters, integrating dynamic content defined by the lead's membership cluster.
Social Media Marketing
Considering Ayming's target audience, Key-One's social strategy focused particularly on LinkedIn, with a repost on Facebook after a revision of the tone of voice appropriate for the channel.
The focus was placed on the production of carousel content, capable of synthesizing and simplifying the key concepts of the facilitative measures that emerged, especially with the PNRR.
At the advertising level, brand awareness campaigns were activated to support lead generation activities through Google ADV.
The activity resulted in a significant increase in followers and engagement across different channels.
SEO e Content
Article Marketing
The primary goal of the activity is to contribute to the organic positioning of certain brand keywords and the group's main services, as well as to address specific issues in the Italian market.
Thanks to the article marketing activity, in conjunction with the SEO optimization of static pages, the site has doubled the number of keywords positioned in SERP in two years.